Media Guide - 2023 Railroad Hobby Show
Posted: 2023-01-21
---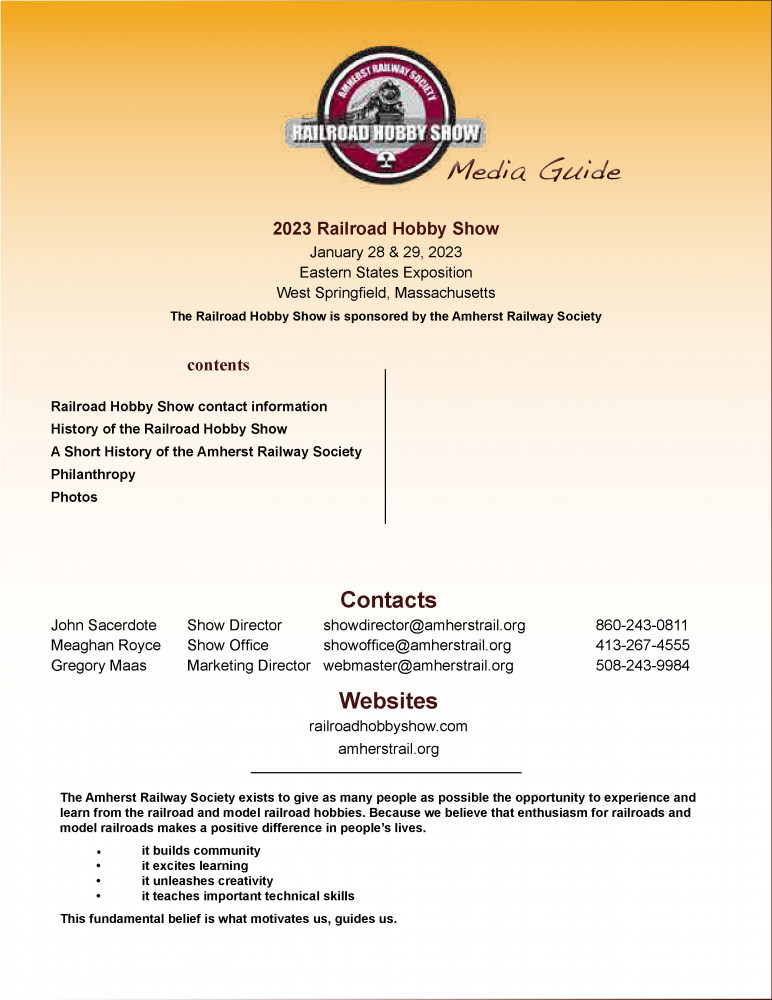 The Media Guide for the 2023 Railroad Hobby Show contains:


Contact information
History of the Railroad Hobby Show
History of the Amherst Railway Society
Amherst Railway Society philanthropy
Photo information
To download the Media Guide in PDF format, click
here.
A Night With The Springfield Thunderbirds
Posted: 2023-01-11
---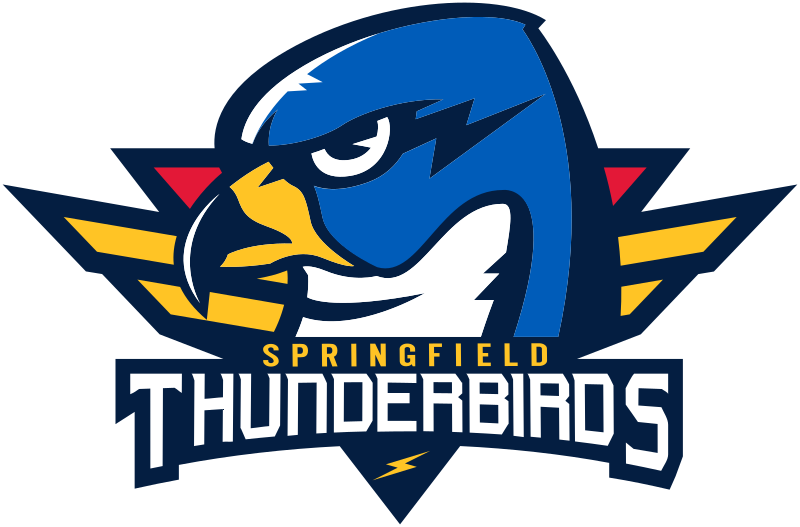 The Springfield Thunderbirds Hockey Club is once again offering discount pricing for Railroad Hobby Show visitors. Discounted pricing is available for games on Friday, January 27 and Saturday, January 28.
Purchase tickets here: https://springfieldthunderbirds.formstack.com/forms/railwayshowoffer23
Please note that discounted tickets can only be purchased in advance and online, and are not available at the MassMutual Center box office.
Also, game tickets are digital - there are no paper tickets. Once purchased, an email confirmation will be sent to the address included on your order form. The confirmation will include a bar code that can be presented for admission on the night of the game. The confirmation can also be loaded into Apple Wallet or Google Wallet.
Railroad Hobby Show visitors can also purchase a Springfield Thunderbirds cap at discounted pricing as part of the special offer.
2023 Railroad Hobby Show raffle winner
Posted: 2022-12-06
---
And the winner is…
Scott Ebersole from Pennsylvania is the winner of the 2023 Railroad Hobby Show raffle. Scott has never attended the Railroad Hobby Show, but it has been on his wish-list for a long time. Now, he get's his chance.
As the 2023 raffle winner, Scott will receive:
Two tickets to the 2023 Railroad Hobby Show - both days

Two tickets to the Saturday evening train show banquet

The Presidential Suite at the Springfield Sheraton Hotel

Shuttle service between the hotel and the Railroad Hobby Show

Tickets to the Thursday & Friday Pre-show clinics

Two 2023 Railroad Hobby Show commemorative cars
Welcome aboard, Scott!
NMRA Winter Board Meeting
Posted: 2022-11-09
---
The National Model Railroad Association (NMRA) will hold its Winter board meeting on Friday, January 27, 2023 at Eastern States Exposition in West Springfield, Massachusetts. NMRA board members from Australia, Canada, the United Kingdom, and the United States will be in attendance.
The NMRA will also have a booth at the Railroad Hobby Show the next two days - January 28 & 29. NMRA board members and department heads will be on hand to answer questions about the NMRA and promote the 2023 convention in Texas.
miniprints full-body scanning
Posted: 2022-09-06
---
miniprints is bringing their full-body scanning system to the 2023 Railroad Hobby Show. So, if you need a scale image of yourself for your layout (and who doesn't...), you will be able to add a feature to your model railroad that few others will have.

The scanning process takes about 20 minutes and the cost of the mini-me scan is $89.99US. Five figures in N HO S or O scales are included, and the five can be a mix of scales.

To schedule a scan, visit: https://www.miniprints.com/springfield

Delivery of the figures will be approximately two weeks after the Railroad Hobby Show.

miniprints (yup, small m) is a 3D printing company that fills an important niche in the model railroad world - super detail parts. Birds, animals, people, objects, vehicles, and just about anything else can be brought to life in N HO S and O scales by miniprints.


More at: miniprints.com


---